How To Introduce the Vaccine Topic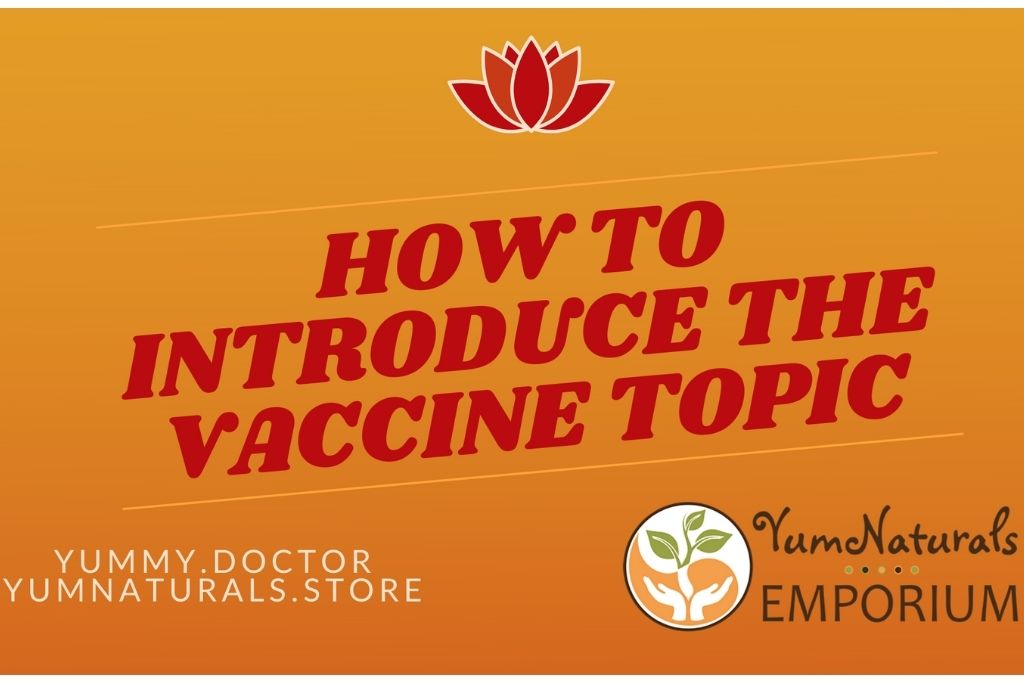 Introduction to Vaccine Topic:
The first thing I suggest to a new parent doing their due diligence on vaccines, is to read a vaccine insert. They can be found online. Also, after you have read a full one, ask yourself this: "Does this sound like health to me?" Also, ask yourself, what DO I know about health?
The next thing I suggest is to research the true history of vaccines. You will soon find that it was indoor plumbing and sanitation that reduced disease rates, not the introduction of vaccines. Additionally, you will also find out that when vaccines were introduced, these inoculations killed and maimed many children and people and caused disease epidemics, sparking the group called The Anti-Vaccination League. Also, why would people and doctors oppose vaccines when they first began, and despite the obvious dangers, why were they continued?
Vaccines Topic Continued
And then look around. How are we doing in terms of health and vitality as a nation? As a species? Are the cancer rates higher or lower? Childhood mortality rates? How are these? How about autism numbers? Are we healthier since vaccines were introduced? Do we live longer?
If this doesn't peak your interest, then I suggest you follow the money. Overall, how much money does the vaccine industry and it's associated morbidity create? Also do doctors and hospitals get kick backs? What is the real agenda here? You may be alarmed at this trillion dollar industry and it's motives.
Then I suggest you find out what the MD's are actually taught in their classes at school about vaccines. You will be alarmed to find out they are only taught the vaccine schedules and how to administer the vaccines and not the risks and issues or even the ingredients in a vaccine. While you are at it, find out how much nutrition information they learn. (Hint, it's an hour at best). So, wait, my doctor who I go to for health advice, doesn't even learn about health, that the body is run on nutrients???
Summary Of Vaccine Topic:
In Summary, vaccine ingredients contain toxic materials including the cells from a baby's foreskin; they historically did not decrease disease rates as they tell us they did (hey, wait. Isn't this a lie? So they are okay with falsifying history? So then, morally speaking, do they really care about the health and well being of my child?); people were trying to stop vaccines when they were introduced (why?); my MD, who is trained by a huge money making industry (and licensed by them and therefore controlled by them) doesn't even KNOW any of this information? Therefore, knowing this I am supposed to blindly trust my doctor?; I look around me and I see everyone is sick? Additionally, there is a 1 in 2 cancer rate and a 1 in 8 autism rate? What is really going on here?
So this should help you take things to the next level.
I have a 9 year old child who is pure: home water birth, breastfed 3 years, unvaccinated and never a medical intervention, never been to a hospital or a doctor, never used or needed antibiotics (another horrible poison that is not the miracle it purports to be) and never gets sick. Furthermore, the vaccine industry refuses to do comparison studies between vaccinated and unvaccinated populations. Why is this? Because their game would be UP, no one would vaccinate. Additionally, the unvaccinated are healthier and have no or few ear infections, strep infections, eczema, adenoid issues, allergies, food sensitivities, behavioural delays, SIDS, cancer, autism and ER visits.
What I have written here is the tip of the iceberg of the information available. Please inform yourself deeply on this topic.
With gratitude and truth…
Amandha Dawn Vollmer holds a Bachelor of Science in Biotechnology from the University of Lethbridge, she graduated from The Canadian College of Naturopathic Medicine in 2008 and has been researching vaccine theory for nearly 20 years. She is a powerful healer & teacher, accessing nutrition, education, and energy awareness to assist people in ridding themselves of suppressive drugs & serious health imbalances.
About Yummy.Doctor

Amandha D Vollmer
BSc, Herbalist, Reiki Master,
Holistic Health Practitioner,
Degree of Doctor of Naturopathic Medicine
Websites:
YumNaturals Emporium Store: https://yumnaturals.store/
Healing with DMSO Book: https://healingwithdmso.com/
Bringing the Wisdom of Nature Education: https://yummy.doctor/
DMSO Products: https://DMSO.store
Support my work by making a donation:
https://yumnaturals.store/product/general-fee-or-donation/
https://www.patreon.com/yumnaturals
YUM BTC (Bitcoin) – bc1qayv9rjzlpc8hlc0t5d80le8u0g72f5p75570hz
YUM ETH (Ethereum) – 0xD4AE2Ae316435e4e68DC0c5D2131c2252fD9B0c4
Telegram Chats:
1. ADV's Main Channel: https://t.me/amandhavollmer
2. ADV's Group: https://t.me/healthydoseoftruth
3. ADV's Legal/Lawful Templates Group: https://t.me/HDoT_Templates
4. ADV's Local Ontario Group: https://t.me/ontarioawake
Advice disclaimer:
The website content, including but not limited to blogs, newsletters and videos with Amandha Vollmer are intended for general information only, and are not intended to be a substitute for legal, medical or financial advice, and should not be construed as legal, medical or financial advice applicable to your particular situation. No attorney-client or confidential relationship is or will be formed by use of this website or the contents within.
Date:
Posted on September 2, 2021 by Yummy.Doctor