Drinking Coffee vs Coffee Enemas. What's the Difference?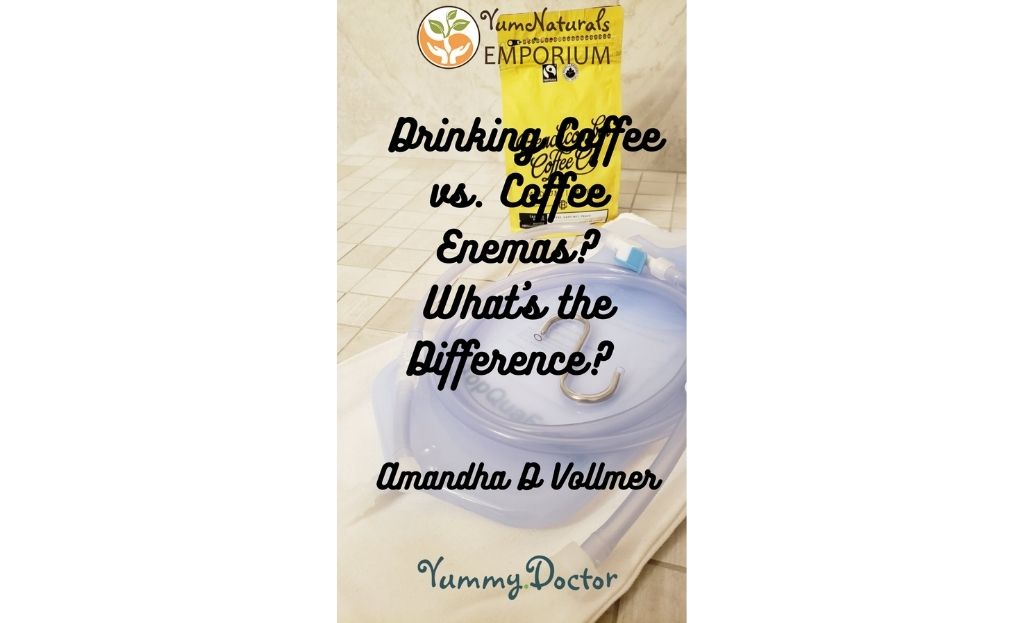 I often get asked the difference between drinking coffee and performing retention coffee enemas.
Oral consumption of coffee is considered problematic due to the adrenal effect (cortisol and adrenaline surge) that thickens the blood, reducing flow to the brain, leading to other hormone issues, sleep dysregulation and general stress effects on the body. It also increases the stimulation of the pancreas and the gastric mucosa (causing localized inflammation). Additionally, Drinking coffee agitates the liver, which controls the bowels (among thousands of other tasks), this is why many people are stimulated into a bowel movement after a cup of coffee in the morning. Also, the liver needs to do repair and the material in the bowels needs to purge.Via enema, the mechanisms are very different.
The coffee does not affect the adrenals, so there are no negative stress effects, even though many people report a burst of energy afterward, it is not from fight or flight chemicals. Furthermore, the coffee bean acids via the bowel and liver stimulate a large production of glutathione, clean out the wastes in the portal vein (dumping into the colon) and trigger the bile to release and be remade.
Holding the coffee for 15 minutes is a method to wash the blood circulation of wastes by the upregulation of that formed glutathione and once it is bound, it is captured, again dumping into the bowel. It's blood cleansing in this case, rather than blood agitating. Yes, you will have a colon clean out when you employ any enema, however a coffee enema is used to increase detoxification via glutathione, rather than simply be an intestinal cleanse.
If you understand these properties then you can comprehend why coffee enemas can be used to reduce pain, as those inflammatory cytokines are removed by via the liver and why drinking coffee orally has a very different effect.
Resources:
About Yummy.Doctor

Amandha D Vollmer
BSc, Herbalist, Reiki Master,
Holistic Health Practitioner,
Degree of Doctor of Naturopathic Medicine
Websites:
YumNaturals Emporium Store: https://yumnaturals.store/
Healing with DMSO Book: https://healingwithdmso.com/
Bringing the Wisdom of Nature Education: https://yummy.doctor/
DMSO Products: https://DMSO.store
Support my work by making a donation:
https://yumnaturals.store/product/general-fee-or-donation/
https://www.patreon.com/yumnaturals
YUM BTC (Bitcoin) – bc1qayv9rjzlpc8hlc0t5d80le8u0g72f5p75570hz
YUM ETH (Ethereum) – 0xD4AE2Ae316435e4e68DC0c5D2131c2252fD9B0c4
Telegram Chats:
1. ADV's Main Channel: https://t.me/amandhavollmer
2. ADV's Group: https://t.me/healthydoseoftruth
3. ADV's Legal/Lawful Templates Group: https://t.me/HDoT_Templates
4. ADV's Local Ontario Group: https://t.me/ontarioawake
Advice disclaimer:
The website content, including but not limited to blogs, newsletters and videos with Amandha Vollmer are intended for general information only, and are not intended to be a substitute for legal, medical or financial advice, and should not be construed as legal, medical or financial advice applicable to your particular situation. No attorney-client or confidential relationship is or will be formed by use of this website or the contents within.
Date:
Posted on January 28, 2022 by Yummy.Doctor